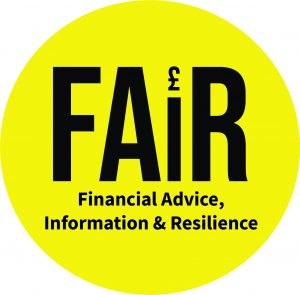 Torbay to address issue of poverty in old age
The FAIR Project, which is funded by Ageing Well Torbay, has been set up following research in Torbay which found that 46% of older people wanted better access to advice and information.  Many are worried about their incomes reducing in old age especially after bereavement or other life events eg retirement, redundancy, ill health and disability.
The project is being delivered through a new partnership of local voluntary sector providers led by Citizens Advice Torbay.  The partners are:
Research suggests that a third of older people who are entitled to benefits like Pension Credit, Attendance Allowance or help with their Council Tax do not claim and this figure rises to over 50% where residents own their own homes.  Many older people in Torbay are asset rich but are living on very low incomes.
Advice and information impacts on a wide range of services and there is considerable evidence that properly funded early intervention can reduce the cost of these services particularly in regard to health.  Advice needs to be seen as a key prevention strategy for Torbay.
Volunteers across Torbay are being recruited and trained by the FAIR Project to be able to provide a range of support in their local communities.  Training will cover identifying an advice need, knowing what help is available, form filling, accessing information online, understanding benefits and how to claim.  Volunteers will also be trained to help with getting the best consumer deals including utilities.
Older people told Ageing Well Torbay that they wanted to be part of the solution and had a wide range of transferable skills which would enable them to help others.
Whilst FAIR is a Torbay wide project it will be working with four distinct communities
Brixham – Visualise, YES and Brixham Does Care
Foxhole – Crafty Fox Café and link with Great Parks Community Centre
Watcombe, Barton and Hele – with services being developed at the Acorn Centre
Older people with Learning Disabilities and their carers – this work is being led by Mencap
Each of these communities will be holding a local launch of the FAIR Project on the following dates
Brixham, Wednesday 6th June 1-3pm at YES, The Edge, Bolton Street, Brixham
Paignton, Tuesday 12th June 12noon – 2pm, Crafty Fox Café, Foxhole Road, Paignton
Torquay, Monday 18th June, 12noon – 2pm, Acorn Centre, Lummaton Cross, Barton, Torquay
Anyone interested in volunteering with the project or needing further information about the launch events should contact Susan Bottomley, FAIR Coordinator on 07706714366 or email susan.bottomley@torbaycitizensadvice.org.uk
Ageing Well Torbay is part of the National Lottery funded Ageing Better programme set up by the Big Lottery Fund, the largest funder of community activity in the UK. Ageing Better aims to develop creative ways for older people to be actively involved in their local communities, helping to combat social isolation and loneliness. It is one of five major programmes set up by the Big Lottery Fund to test and learn from new approaches to designing services which aim to make people's lives healthier and happier.
Further details about Ageing Well Torbay can be found at www.ageingwelltorbay.com